Shop Hop Winners & Class information
Hi all,
Here are the winners for the 2016 Shop Hop! Congratulations to all!
Rosetta from Worcester - Phaff Sewing Machine
Pam from Winchendon - Sew Steady Table
Winners of Gift Certificate Bundles;
Paula from Pittsfield
Cathy from Valatie
Kathy from Springfield
Barbara from Westboro
Terri from Southampton
Nancy from Arlington
A special congratulations to Paula who was in the shop Saturday to pick up her Gift Certificates. I'm sure she will put them to good use!
Thanks to everyone for a fun & enjoyable Shop Hop. It was great to see everyone. Hope you all had a great time! Plans are already under way for next year. More information to follow…

Many thanks to Marlene, Betsy, Carol and Jean for all their hard work and long hours. Their dedication, enthusiasm and talent always humbles me. We also had some wonderful volunteers that helped throughout the weekend. THANK YOU, THANK YOU, THANK YOU!!! We couldn't have done it without you.

Last but not least, thanks to Gary for all his hard work and for putting up with us.



Row by Row:
Just wanted to let everyone know that we have a limited amount of our 2016 row by row kits available for sale. We also have kits for the entire combined 2016 quilt for the 6 Quilt Shops. Call or stop in the shop for more information.



Classes:
We are offering the following classes for November and December. Please note that if we don't have at least 4 people signed up per class, we will need to postpone or cancel. We'll make every effort to accommodate your needs. Also, if you have idea's for classes, please let us know!
This week we have two classes that should be fun, The Carpenter Star on Thursday 5-8pm and on Sunday, Martha's Purse from 12-3pm. Both are part one of a two part class. The Beginning Machine Quilting class is full with a waiting list.


Date
Time
Class
Thurs 11/10 & 17
5-8pm
Carpenter Star (2 part class)
Sat 11/12
12-2:30pm
Beginning Machine Quilting
(class is full-waiting list)
Sun 11/13 & Sat 12/3
12-3pm
Martha's Purse (2 part class)
Wed 11/16 & 30
4-6pm
Chubby Charmer Bag (2 part class)
Sat 11/19
11am-3pm
Easy Fusible Applique
Sun 12/4
1-3pm
Kids Class
Tues 12/6
5-7pm
Gift items-Pillows
Sat 12/10
12-4pm
Doll Cloths
Sat 12/17
11am-3pm
Open Sew-finish those projects!
Sun 12/18
1-3pm
Gift items-tbd

Call the shop or check our the website for more information.


Don't forget…it's "MY HAPPY PLACE". Hope it's yours too!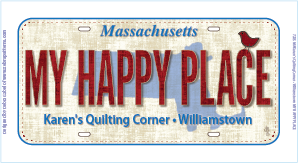 Have a great day!!


Karen, Marlene, Betsy, Carol & Jean
(413)884-6200
www.karensquiltcorner.com
karensquiltcorner@gmail.com