Fall Happenings at the Shop
Hi all,

Hope everyone had a great summer. It's hard to believe it's fall when it's a beautiful, sunny 80 degree day and we have the air conditioner running. I'm sure it will cool down pretty soon. When it does, we have lots of new fabrics for your quilting needs.

Just thought to update you on some events and classes coming up.


Quilt Show:
This weekend, September 16-17 we'll be at the Quiet Valley Quilt Guilds' Bennington QuiltFest from 9:00am-5:00pm each day. Come say "hi" and see some wonderful quilts. Very inspiring!

The shop will be open regular hours during the show. Our regular hours are (Mon-Thurs 10-6, Fri-Sat 10-5 & Sunday 12-4). We're gearing up for Shop HOP and have lots of new arrivals.


CLASSES/Events:
We've been hard at work on scheduling more classes and events at the shop. Check out our website for more information: http://www.karensquiltcorner.com/classes.htm . Keep looking because we're continuing to add classes all the time.
Ongoing classes:
Wool & Embroidery Club with Michelle Gajda every 1st Monday of each month (5-7pm)
Wool & Embroidery Block of the Month with Michelle ever 3rd Monday of each month (5-7pm)
Bag of the Month with Marlene or Betsy every 2nd Wednesday of each month (5:30-8:00pm)
NEW- LUNCH BUNCH! Let's gather for some fun & food with our new LUNCH BUNCH. We'll get together the third Thursday of each month from 10am-2:00pm. We'll sew and eat our way to more quilts! Pot Luck if you want to share.

Other classes:

Sunday, October 29, Kathy Gaul from Meetinghouse Hill Designs in Colorado will be in the area and is offering her popular "a-MAIZE-ing il-LUMINA-tion" pattern as a class (10am-5pm). This is a dimensional wool project which is stunning. We'll do a Pot Luck for lunch.


Saturday, November 4 (9:30am-3:30pm), Sue Pritt will be back to teach a class with her beautiful Landscape quilt patterns.
Saturday, November 11 (10:30am-1:00pm). Trunk show and talk by Nancy Sullivan a certified Sue Pelland Instructor. "Fun, Fast Fusible Fabric with Attitude". No sewing machine necessary. Just grab a friend and come to a fun filled talk on how to use Sue Pelland templates & a Misty Fuse demo. See some of Nancy's quilts!

Saturday, November 18. Reverse Applique with Donna Kelly.
Saturday, December 2 & 9 (2 part class) Martha's Wallet with Martha Dominguez
We'll also be bringing Karen Pratt back for a Machine Quilting class (date & time to be announced).

You can find more information on our website or in the shop.

Massachusetts Quilt Shop Hop - Fiesta Fun
Have you registered yet for the Fiesta Fun?
The Massachusetts Quilt Shop Hop is right around the corner - Oct 20,21 & 22, 2017. The grand prize this year is an Elna eXperience 580 sewing machine!
You can purchase a passport at one of the five wonderful shops participating this year.
Bayberry Quilt & Gift Shoppe, Chicopee, MA
Brookside Quiltworks, So. Egremont, MA
Karen's Quilting Corner, Williamstown, MA
Pumpkin Patch, Lee, MA
Quilts & Treasures, East Longmeadow, MA
Calling all Quilters -Quilt Guild Auction!!
The Berkshire Quilters' Guild is celebrating it's 25th Anniversary. They are holding an auction on Tuesday, October 10th. The viewing begins at 6 p.m. and auction at 7 p.m. Over 100 lots to be auctioned off – with a special package from Karen's Quilting Corner also included!!
The Berkshire Quilters' Guild is a non-profit with a membership of 52 women. We meet once a month - hire lecturers, hold workshops for educational development. They also donate quilts to many organizations - Shriner's in Springfield, Camp to Belong in MA and NY, Katrina, Haiti, and Center for Families & Children's Project are a few examples of organizations we have supported.
Please help support this local group that is committed to growing the quilting community, encouraging community support and has been generous with their respective talents across many different organizations.
DATE: Tuesday, October 10th – viewing at 6 p.m. and auction at 7 p.m.
Location: Claire Teague Senior Center in Great Barrington 917 S Main St, Great Barrington, MA 01230



Don't forget…KQC is "MY HAPPY PLACE". Hope it's yours too!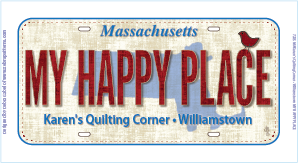 and lets


Thanks for your support and Have a great day!!


Karen, Marlene, Betsy, Carol & Jean
(413)884-6200
www.karensquiltcorner.com
karensquiltcorner@gmail.com