Upcoming Special Classes & Events
Hi all,
Just wanted to thank everyone for a great Shop Hop! It was so much fun and wonderful to see everyone. Hope you had a good time. We're already planning for next year!
Also, a quick reminder on some special classes and events coming up.
Lunch Bunch: Let's gather for some fun & food with our new LUNCH BUNCH. We usually get together every third Thursday of the month but because of the Shop Hop we're doing it this Thursday 10/26. Bring a project to work on and some food to share if you want. We'll sew and eat our way to more quilts! 10:00am-2:00pm. Please call to reserve your spot!

Other classes/events:

This coming Sunday, October 29, Kathy Gaul from Meetinghouse Hill Designs in Colorado will be in the area and is offering her popular "a-MAIZE-ing il-LUMINA-tion" pattern as a class (10am-5pm). This is a dimensional wool project which is stunning. A fun day of hand sewing! We'll do a Pot Luck for lunch. We have a couple more spaces available. We have a sample in the shop. Call for more information and to sign up!



Saturday, November 11 (10:30am-1:00pm). Trunk show and talk by Nancy Sullivan a certified Sue Pelland Instructor. "Fun, Fast Fusible Fabric with Attitude". No sewing machine necessary. Just grab a friend and come to a fun filled talk on how to use Sue Pelland templates & a Misty Fuse demo. See some of Nancy's quilts!


Check out our WEBSITE for more classes! www.karensquiltcorner.com


Don't forget…it's "MY HAPPY PLACE". Hope it's yours too!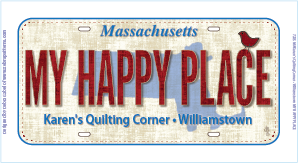 And it's time to:


Have a great day!! Hope to see you this weekend!


Karen, Marlene, Betsy, Carol & Jean
(413)884-6200
www.karensquiltcorner.com
karensquiltcorner@gmail.com