Happy Thanksgiving
Wishing everyone a happy and safe Thanksgiving. We are thankful for all of our family, friends and wonderful customers!!

A few quick reminders and bits of news:
Wednesday, Nov 22 we will be closing early. Hours will be 10:00am-2:00pm
Closed Thanksgiving, Christmas Eve Day(12/24), Christmas (12/25), New Years Eve Day(12/31) and New Years Day(1/1).
Check out the WEBSITE for classes and open sews. www.karensquiltcorner.com
Call the shop during inclement weather to see if we are open (413)884-6200. Or check the Website.
Save the date: May 4, 5 &6 (first weekend in May 2018), we have scheduled our first Quilt Retreat!
We're very excited about our first Retreat. We found a wonderful venue within 25 minutes from the shop. We'll be able to accommodate 20 people. We'll be sharing more information as it becomes available…but wanted to give you the dates for planning purposes.


Don't forget, it's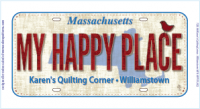 hope it's your's too!



Karen, Marlene, Betsy, Carol & Jean
(413)884-6200
www.karensquiltcorner.com
karensquiltcorner@gmail.com