Happy Holiday's : It's Sale Time!!
Hi all,
Hope everyone enjoyed their Thanksgiving.

For the Wool Club on Monday (12/4), Michelle will be bringing a little kit and free pattern for all who attend. Here are some samples of what you can do. A great quick, last minute gift. Give us a call if you plan to come (5-7pm).


Future Happenings:
Super Bowl Sunday, February 4. We'll give you the details in a future email, but mark your calendars now. We're planning another potluck!
Retreat News: As I mentioned in our last email, we have scheduled our first retreat…and we're really excited! I mean REALLY EXCITED! The venue is 20-25 minutes from the shop and believe it or not, called Karin's Place! Talk about serendipity! Save the date May 4-6, 2018. We already have some fun plans, including a late night shopping trip to the shop! More details will follow but let us know if you're interested and we'll put your name on the list.

It's Sale Time:

People have asked, "What about your 12 days of Christmas Sale?" Well, instead of 12 days of different sales, we decided to keep it simple (well, almost). We're going to do a 12 day sale of bolts and precuts:
20% off of regular cotton and flannel bolts and precuts
We'll also take an additional 20% off of our regular sale rack in back.
In addition (there is always something else), we'll have an unannounced daily special. It's unannounced because we haven't figured it out yet but we'll pick something each day, (I'll even post it on our Facebook page).

So... stop in December 1 – 12 for the sale. Should be fun!

Other Tidbits:

Holiday hours – We will be closed on Christmas Eve & Christmas Day (12/24 & 12/25) and New Year's Eve and New Year's Day (12/31 & 1/1).
Check out the WEBSITE for classes and open sews. www.karensquiltcorner.com
Great last minute gift ideas…Don't forget we have Gift Certificates!! GIVE THE GIFT OF QUILTING!
Call the shop during inclement weather to see if we are open (413)884-6200. Or check the Website.


Don't forget, it's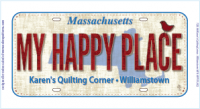 hope it's your's too!




HAPPY HOLIDAYS!!




Karen, Marlene, Betsy, Carol & Jean




(413)884-6200




www.karensquiltcorner.com




karensquiltcorner@gmail.com