Classes & News at KQC
Hi all
,

This Saturday, Karen Pratt will be joining us from 10:00-12:30 for a class on Quilting on your Home Machine. If you want to learn how to quilt some of your smaller projects with either Stitch in the Ditch or Free Motion techniques, this is the class for you. We still have a couple of spots open if you are interested. Call the shop to sign up.

Check our our WEBSITE for more classes! We have quite a few scheduled. Visit us at
www.karensquiltcorner.com
Here are some of the ones that are currently scheduled:
Upcoming classes/events:

Saturday 3/17 Beginning Machine Quilting with Karen Pratt (10am-12:30pm)
Saturday 3/24, Beginning Quilting (12-3pm)
Saturday 4/21, Starry Log Cabin (10:30am-4:00pm)
Sunday April 22, Beginning Quilting (12-3pm)
Saturday 5/19, Chain Letter (10:30am-4pm)
Recurring classes/events (please call to verify & sign up)

Lunch Bunch (10am-2pm)-USUALLY THE 4th Thursday of the month
Wool BOM (5-7pm)-usually the 3rd Monday of the month
Wool Club (5-7pm)-usually the 1st Monday of the month
Join Carol for Charity Sewing Every Third Thursday from 4 to 7 pm
SUNDAY OPEN SEWS (12pm-4pm) 2nd Sunday of each Month

Retreat news:
We've had a wonderful response to our Retreat at Karin's Place May 4-6. We're almost full so there is still time to sign up if you're interested. It should be a fun weekend! Check out Karin's Place here: http://www.karinsplacevt.com/ . If you want more information, visit our WEBSITE or call the shop.

Shop Hop News:
We're very excited to be joining 7 other Quilt Shops for the New York Quilters Quest Shop Hop this spring. The theme is "Super Stitcher" Sign ups begin March 21. The Shop Hop will run from May 31- June 10. Lots of time to visit all the shops.

Of course, we have the MA Shop Hop this fall. It will be the same 5 shops as last year and our theme is 'Whymsical Garden". Just think of all the fun things you can find in a "whymsical" garden. Hopefully the snow will melt soon and we'll see. The dates of the MA Shop Hop are October 19-21.

There is more information on both Shop Hops on our WEBSITE and we'll keep everyone updated as the dates get closer.


Quilt Shows:
In April we will be Vendoring at two Quilt Shows.

The weekend of April 14-15 we will be in Springfield MA for the "Pieces of Time Quilt Show" presented by the Pioneer Valley Quilters Guild. This year it will at the Elks Lodge #61, 440 Tiffany St. Springfield, MA.

The weekend of April 28-29 we will be in Clifton Park NY for the Empire Quiltfest which is presented by multiple Quilt Guilds in the area. It will be at Schenendehowa High School East in Clifton Park, NY.

Final words:
It's been a long winter and we are anxiously awaiting Spring. We're receiving lots of new fabric & collections on a regular basis so stop in and check things out. THINK SPRING!!


Don't forget…it's "MY HAPPY PLACE". Hope it's yours too!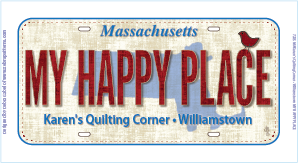 And it's time to:


Have a great day!!


Karen, Marlene, Betsy, Carol & Jean
(413)884-6200
www.karensquiltcorner.com
karensquiltcorner@gmail.com