Happenings at Karen's
Hi all,
Hope everyone is enjoying the warmer weather. There is a lot going on at the Shop these days!
Quilters Quest Shop Hop:
The Shop Hop continues through Sunday, June 10. The theme is "Super Stitcher. Eight great shops in NY & MA, Adirondack Quilts, Brookside Quiltworks, The Joyful Quilter, Karen's Quilting Corner, KC Framing and Fabrics, Log Cabin Fabrics, Pumpkin Patch & Quiltbug. Hours through Sunday are Friday 9-7, Saturday 9-5 & Sunday Noon-4. We've met lots of wonderful new people since the Shop Hop began last week. Come join the fun!

MA Shop Hop
Passports are now available for the 2018 MA Shop Hop which will be October 19, 20 & 21.
The theme this year is Whimsical Garden and includes 5 of your favorite Quilt Shops in Western MA (Bayberry, Quilts & Treasures Pumpkin Patch and Brookside Quiltworks and us). You can find more information on our website.


Row by Row
Row By Row begins June 21.
This year's theme is SEW MUSICAL. This Year we are doing a coordinating quilt with our MA Shop Hop Friends (Bayberry, Quilts & Treasures Pumpkin Patch and Brookside. As you know, patterns are free to anyone and kits will be available to purchase when you visit the shop in person. Collect the patterns or kits until September 4. If you are the first person to bring a completed quilt to the shop between June 21 through October 31 (8, 2018 rows, quilted, bound & labeled) you will receive 25 Fat Quarters. If you use our row, we will give you an "extra" prize. Here is our row: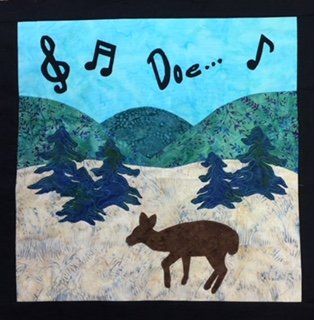 Classes
We continue to plan more classes. Check out the WEBSITE for the most up to date information. Here are a few that might be of interest. Check back often as we add classes to the schedule.

We're excited to have Sue Pritt scheduled for TWO classes, Saturday August 11 & Saturday December 1.
Other Upcoming classes/events:
Lunch Bunch (10am-2pm)-USUALLY THE 4th Thursday of the month
Wool BOM (5-7pm)-usually the 3rd Monday of the month
Wool Club (5-7pm)-usually the 1st Monday of the month
Join Carol for Charity Sewing Every Third Thursday from 4 to 7 pm
SUNDAY OPEN SEWS (12pm-4pm) 2nd Sunday of each Month
Saturday, June 16 10:30-4:00pm Organized Chaos

Saturday, July 14, 10:00am-noon Beginning Wool Embroidery
Saturday, July 21, 10:30-4:00pm BQ2 Class
Saturday, August 18, 10:30-4:00pm BQ3 Class
Fabric continues to arrive on a regular basis. We're even starting to get our holiday fabric. Stop in and see what's new.
More information for the Quilters Quest Shop Hop (going on now) or MA Shop Hop (October) , Row by Row and classes can be found on our website: www.karensquiltcorner.com
Have a great day! Hope to see you soon.
Karen, Marlene, Betsy, Carol & Jean
Karen's Quilting Corner
723 Cold Spring Rd.
Williamstown, MA 01267
www.karensquiltcorner.com