Classes and Upcoming Events
Hi all,

This week, Betty King will be joining us for two classes.
Thursday 9/20 from 5-7pm. Learn how to make a Quilted, pocket storage can.
Saturday 9/22 from 11am-2pm. Learn how to make a Quilted Carrying Bag.
Both would make wonderful gifts.
We still have a couple of spots open if you are interested. Call the shop for more information or to sign up.

Other Upcoming classes/events:

Wednesday, October 3 - Beginner class with Betsy (5-8pm)
Learn the basics of making a quilt.

Saturday October 13 - Winter Wonderland Gifts by Kathy Gaul from Meetinghouse Hill Designs.
This is a special wool project. A sample is hanging in the shop. No sewing required.
Sunday, October 14, Nancy Sullivan Demo & Trunk show with Sue Pelland templates and designs
Nancy will join us to demo Sue Pelland templates (Leaves Galore and Hearts & More).
She will share with us some of Sue's patterns as well as her own. Nancy will also be here in November
and December for two classes using the templates.
Friday-Sunday, October 19-21 SHOP HOP

Saturday, October 27, Radiant with Carol

Recurring classes/events (please call to verify & sign up)

Lunch Bunch (10am-2pm)-USUALLY THE 4th Thursday of the month


Wool Club (5-7pm)-usually the 1st Monday of the month with Michelle Gajda
Wool BOM (5-7pm)-usually the 3rd Monday of the month with Michelle Gajda
Join Carol for Charity Sewing Every Third Thursday from 4 to 7 pm (not scheduled for October)
SUNDAY OPEN SEWS (12pm-4pm) 2nd Sunday of each Month

Check our our WEBSITE for pictures and more classes! We have quite a few scheduled and are continually adding to the schedule. Visit us at www.karensquiltcorner.com or call the shop.

Wooley Block:
For our friends who like wool, we will be participating in the Wooley Block Challenge this year (which is similar to Row by Row). Michelle Gajda designed a beautiful 8 x 8 block (see below). Patterns will be free for those who stop in the shop (October 1 - November 30). Kits will be available for purchase. The stitching challenge will be December 1 - January 31. More information will be available soon.





Shop Hop News:
The MA Shop Hop this fall is quickly approaching. It will be the same 5 shops as last year and our theme is 'Whymsical Garden". Just think of all the fun things you can find in a "whymsical" garden. Start making your plans now. The dates of the MA Shop Hop are October 19-21. Stop in the shop to sign up and pickup your passport and gift.


Quilt Show:
September 29-30 we will be at Proctor's for the Bi-annual Quilt Show presented by Q.U.I.L.T.Schenectady. Saturday's hours are 10-5 and Sunday is 10-4. It's always a nice show.


Other shop info:
The shop has been busy and we're receiving lots of new fabric & collections on a regular basis so stop in and check things out. Lots of batiks, fall and holiday fabrics.


Don't forget…it's "MY HAPPY PLACE". Hope it's yours too!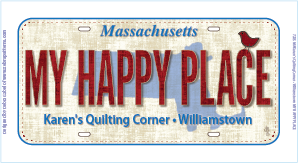 And it's time to:


Have a great day!!


Karen, Marlene, Betsy, Carol & Jean
(413)884-6200
www.karensquiltcorner.com
karensquiltcorner@gmail.com