Upcoming Classes
Hi all,
First, thank you so much for a wonderful Shop Hop 2018. It was so much fun and great to see everyone! Can't wait for next year.
This Saturday Carol is teaching "RADIANT". It's a fabulous Fat Quarter Quilt that she made with Christmas fabric although it would look nice with almost any fabric. It will be at the shop from 10:30am-4:00pm. We have room for a couple more people. Call the shop or register ONLINE if you are interested.
On Sunday, November 4 Carol is giving a class on a Travel Pillow. It's a great gift idea for the holidays. It has a pocket and handle for easy use. The class will be from 12:30-4:00pm. You could probably make more than one!
On Saturday, December 1 Sue Pritt will be back teaching her popular fusible applique technique. We're pretty much full but could probably squeeze one more person in the class.


The holiday's are fast approaching and we have many gift items and of course lots of fabric for your last minute gifts. Stop in to see what we have.
Don't forget…it's "MY HAPPY PLACE". Hope it's yours too!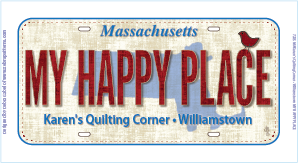 And it's time to:


Have a great day!!


Karen, Marlene, Betsy, Carol & Jean
(413)884-6200
www.karensquiltcorner.com
karensquiltcorner@gmail.com