Happenings at KQC
Hi all,
It's almost time for the Super Bowl!
Yes we are having our Super Bowl Class!! Join us Sunday February 3 from Noon until 5:00pm. We have a new location this year. We'll be at St's Patrick & Raphael Parish Center on Southworth St. in Williamstown (very close to where we have been the last few years). We'll be featuring the quilt "LONG TALL" which is a strip quilt that can be made in a throw, twin or king size. We have the fabric requirements at the shop. If you would prefer, you can bring your own project or UFO to work on. We'll have cutting stations and ironing stations. As we have done in the past, feel free to bring some food to share. Everyone goes above and beyond with sharing their specialties. Stop in to sign up or sign up ONLINE.

We all had a wonderful time at our 1st Retreat in 2018. Here is the new information for our 2019 Retreat in May.

Quilt Camp at KARIN'S PLACE
May 3-5, 2019
Join us for a fun filled Quilting weekend in nearby Bennington Vt. Believe it or not, we found a beautiful 8,000 square foot home. We will be sewing in the ballroom but have access to a gourmet kitchen, dining & living areas, billiards room, and a variety of bedrooms and bathrooms. In addition, there is a sauna and hot tub. Unfortunately the pool won't be open in early May but there is plenty of outside space including a deck, patio space and gas fire pit. This is a special and different retreat experience. We have exclusive use of the property for the weekend. For more information on the property, visit www.karinsplacevt.com. We're really excited to offer this opportunity to our customers.

The private and double/triple rooms have already been reserved. Many of those that attended last year enjoyed themselves so much that they were quick to reserve their spot this year. We have availability in the bunk room which will be $350 per person. Bathrooms are shared, not private. The price also includes food(Friday night through Sunday Morning). Call the shop to sign up or if you have any questions. Deposits (1/2) will be due by February 1, 2019. The remaining will be due by March 1,2019. Call the shop if you have any questions.

Bring your own projects but will be have demonstrations and small projects

Sewing room available around the clock
NEW FABRIC is arriving daily!

We have some nice new MODA lines in the shop:
Prairie Grass

Regency Bellycastle Chintz 18th Century


The ever popular Summer Breeze VI has also just arrived:


Don't forget…KQC is "MY HAPPY PLACE". Hope it's yours too!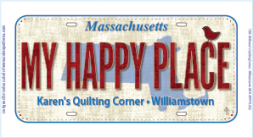 and lets


Have a great day,


Karen, Marlene, Betsy, Carol & Jean
(413)884-6200
www.karensquiltcorner.com
karensquiltcorner@gmail.com