Happenings at KQC
Hi all,

I bet everyone is looking forward to Spring. We might have a few winter days left, but the sun seems brighter and days are getting longer.
We're receiving new fabric on a regular basis. Some of our new fabrics include Moda's reproductions, Grunge and Summer Breeze. We have some new Kaffe Fasset fabrics and the new Kim Diehl line, Wit & Wisdom. Plus much more! Stop in and check everything out.
Upcoming classes/events:

Sue Pritt will be returning, Saturday, June 15 (9:30am-3:30pm).
We are in the process of scheduling spring and summer classes. Please let us know if you have any suggestions.


Recurring classes/events (please call to verify & sign up)
Lunch Bunch (10am-2pm)-USUALLY the 4th Thursday of the month
Wool Club (5-7pm)-usually the 1st Monday of the month
Join Carol for Charity Sewing Every Third Thursday from 4 to 7 pm
SUNDAY OPEN SEWS (12pm-4pm) 2nd Sunday of each Month

Retreat news:

We've had a wonderful response to our Retreat at Karin's Place, May 3-5. We're almost full but there is still time to sign up. If you're interested there is room left in the large shared room. It should be a fun weekend! Check out Karin's Place here: http://www.karinsplacevt.com. If you want more information, visit our WEBSITE or call the shop.

Upcoming Quilt Shows:
On April 6 & 7 we will be Vendors at these two Quilt Shows. Come say "hi" and see some wonderful quilts. Very inspiring!
Hands Across the Valley is holding their 17th biennial Quilt Show at the UMASS Amherst Campus Center in Amherst MA. 10:00am-4:00pm on both days.

Quilters United in Learning Together of Delmar, is holding their 2019 Quilt Show at the Hilton Garden Inn in Troy NY. Saturday 9:00am-5:00pm, Sundy 10:00am-4:00pm.


Shop Hop News:

The theme for this year's Quilters Quest Shop Hop is Backyard Travel. It's amazing what you can find in your own backyard! Other shops include Adirondack Quilts, Brookside Quiltworks, The Joyful Quilter, KC Framing and Fabrics, Log Cabin Fabrics, Pumpkin Patch and QuiltBug. Signups begin March 21. The Shop Hop will run from May 30- June 9. Lots of time to visit all the shops.

Of course, we have the MA Shop Hop this fall. We're happy to welcome two new shops to the MA Shop Hop. The Spare Room in Westfield and Valley Fabrics in Northampton will be joining the fun this year. As a reminder, the other shops include Quilts and Treasures, Bayberry, Pumpkin Patch and Brookside Quiltworks. The theme this year is Neighborhood Block Party. The dates of the MA Shop Hop are October 18-20. Signups will begin June 1…but mark your calendars now!

There is more information on both Shop Hops on our WEBSITE and we'll keep everyone updated as the dates get closer.
Other Shop News.
If you have been in recently you might have met Bruce. Between vacations, new babies and a couple of surgeries, we needed a little "extra" help. Bruce is a welcome addition to our team.

D

on't forget…KQC is "MY HAPPY PLACE". Hope it's yours too!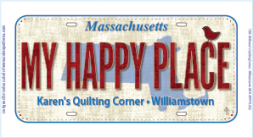 and lets


Have a great day,


Karen, Marlene, Betsy, Carol, Jean & Bruce
(413)884-6200
www.karensquiltcorner.com
karensquiltcorner@gmail.com