Upcoming classes and Other info
Hi everyone,
A quick note to let you know about a couple of upcoming classes:
MONDAY, JULY 1 English Paper Piecing. 5:00-700pm. $10.

Learn the basics of English Paper Piecing and make a hexagon candle/place mat. English Paper Piecing is a fun and very portable hand-work project. It's great for the summer. Michelle Gajda will be teaching the class.
There is a supply list at the shop and on our WEBSITE. Call to signup or signup ONLINE.


Saturday, July 13- Beginner class with Betsy (10am-1pm), $25

Learn the basics of making a quilt.


Saturday, November 2. GNOMES, GNOMES, GNOMES (10am-2pm) $15

Learn how to make these cute gnomes.





A quick note that our August Wool Club that normally meets on the first Monday of the Month (5-7pm) will be held on Monday, JULY 29 from 5-7pm.


Check our our WEBSITE for pictures and more classes! We have quite a few scheduled and are continually adding to the schedule including RUGS, Bags & Quilts. Visit us at www.karensquiltcorner.com or call the shop.


Recurring classes/events (please call to verify & sign up)

Lunch Bunch (10am-2pm)-USUALLY THE 4th Thursday of the month
Wool Club (5-7pm)-usually the 1st Monday of the month with Michelle Gajda
Join Carol for Charity Sewing Every Third Thursday from 4 to 7 pm (not scheduled for October)
SUNDAY OPEN SEWS (12pm-4pm) 2nd Sunday of each Month


Shop Hop News:
MA Shop Hop Registration is open! Make plans with your friends and sign up for all the fun!



Other shop info:

The shop has been busy and we're receiving lots of new fabric & collections on a regular basis so stop in and check things out. Lots of batiks, flannel, fall and holiday fabrics just arrived. Yes, Christmas is here!


Don't forget…it's "MY HAPPY PLACE". Hope it's yours too!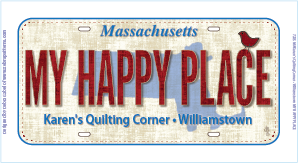 And it's time to:


Have a great day!!


Karen, Marlene, Betsy, Carol, Jean and Bruce
(413)884-6200
www.karensquiltcorner.com
karensquiltcorner@gmail.com