Bennington Quilt Fest & Shop Hop
Hi all,
Just a quick reminder that our friends from the Quiet Valley Quilt Guild is having their Quilt Show (Bennington Quilt Fest) this weekend. Saturday from 10am-5pm & Sunday 10am-4pm. There are some beautiful quilts on display!


MA Shop Hop :
Passports are now available for the 2019 MA Shop Hop which will be October 18,19 & 20.
The theme this year is Neighborhood Block Party and includes 7 of your favorite Quilt Shops in Western MA (Bayberry, Quilts & Treasures Pumpkin Patch and Brookside Quiltworks, ValleyFabrics, The Spare room and us). You can find more information on our website.


Other Info:

Fabric continues to arrive on a regular basis. We have lots of fall and Christmas fabric.
Have a great day! Hope to see you soon.
Don't forget…it's "MY HAPPY PLACE". Hope it's yours too!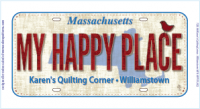 and lets





Have a great day,


Karen, Marlene, Betsy, Carol & Bruce
(413)884-6200
www.karensquiltcorner.com
karensquiltcorner@gmail.com