2019 MA SHOP HOP & Sue Pritt Class
Hi everyone,
Just a quick update about classes. Sue Pritt will be teaching her popular Fusible Applique Class at the shop Sunday, November 3 from 10:00am-3:00pm. She has some wonderful new patterns (kits that are already precut & perfused). Call the Shop for more information:

Winterberry Cafe
It's time to hop from shop to shop! October 18, 19 & 20th.

Hours for the Shop Hop are Friday & Saturday 9:00am - 7:00pm. , Sunday 11:00am-4:00pm.
Just a quick reminder that the Massachusetts Quilt Shop Hop is this weekend! (Note: Still time to sign up! You can also sign up this weekend). All of the quilt shops are working very hard to make a fun and exciting weekend for you! Please try to take notice of the little extras each shop has done and as you travel this weekend.
There will be a daily door prize at each shop (separate drawings) and if you validate your passport at all the shops, your name will be eligible for the grand prize ( Pfaff Ambition 620) as well as some other prizes.

The theme this year is Neighborhood Block Party

There will be a "Spirit Award" for those that want to participate. Dress or decorate according to the theme and your name will be submitted for a prize.
Here are some thoughts & hints for the weekend.
1. Make sure your name and cell phone number is on your passport. In case you leave it at the last shop, we can get you during the hop.
2. Bring some address labels with you to save time when registering and/or filling out raffle prize tickets. Please add your phone number so we can contact you more easily.
3. Make sure that you have the Shop Hop brochure with you so you have addresses ... and phone numbers to call in case your get lost!!
4. If you are trying to match some fabrics, we would greatly appreciate them being in a clear baggie.
5. As you visit each shop and get your passport validated, you will receive a goodie bag. It will contain a set of instructions, a fat quarter, a coupon for a future purchase, a sweet treat, and another Goodie!
6. When your passport is fully validated, having visited all 7 shops, you will be entered into our grand prize drawings,
7. ALL stores will be open for the hours of the Shop Hop - even if these differ from their normal hours.
Shop Hop Weekend is always ALOT of fun!!! Thank you for your participation because without you, this event would not be happening! We are so looking forward to the fun of seeing everyone!
Please Drive Safely.


For more information visit http://www.karensquiltcorner.com/ma-shop-hop.htm
If you haven't registered for the Shop Hop, its only $8 and you can register with us or at any of the other participating shops:
Bayberry Quilt & Gift Shoppe, Chicopee, MA
Brookside Quiltworks, South Egremont, MA
Karen's Quilting Corner, Williamstown, MA
Pumpkin Patch, Lee, MA
Quilts & Treasures, East Longmeadow, MA
The Spare Room Quilt Shop, Westfield, MA
Valley Fabrics, Northampton, MA
It's going to be a much talked about event! Hope you'll be joining us!


Don't forget…it's "MY HAPPY PLACE". Hope it's yours too!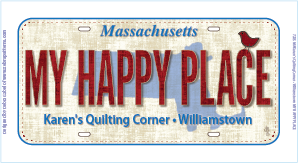 And it's time to:






I also want to take this opportunity to thank my WONDERFUL STAFF for all their hard work. They make it all happen!
Have a great day!! Hope to see you this weekend.


Karen, Marlene, Betsy, Carol, Jean and Bruce
(413)884-6200
www.karensquiltcorner.com
karensquiltcorner@gmail.com