Fall Skinny Bolt sale & classes
Hi all,
A quick thank you for all those who participated in the recent MA Shop Hop. Hope you enjoyed it as much as we did. Actually, the winner of the Grand Prize registered through our shop! Congrats! Check out the MA Shop Hop facebook page for more information.
Now that things have settled down a bit, I thought I'd catch you up on a few things.
1. Marlene has done some fall cleaning and has put some more bolts and other items on our sale rack. Most are about 30% off. Come check things out.
2. In the process of cleaning things out, we've decided to have a

SKINNY BOLT sale

. It's been a while since the last one but we're hoping to sell these in order to make room for new fabric lines. So, for now, we have an area and the skinny bolts marked so they will be 20% off. 1 yard minimum please. There are batiks, reproductions, Christmas and others. Help us make room for more fabric!
We also have some new classes scheduled. Check out the class schedule on the website for more information.
Poppins Bag: Marlene has been hard at working making a Poppins Bags. She had two big ones in the shop and making a small one. They're stunning. There is lots involved making this bag so it's scheduled over two dates. (Mondays, November 18 & 25 from 3-7pm).

Beginner Class:

Sunday, December 8 from 12-3pm. Betsy has schedule a beginner's class for those that are interested in learning how to quilt. This isn't a project base class but one that is skill based. It will open up a whole new world for you.
Pillow Class

: Saturday, December 7 from 12-3pm. As you know, I don't really teach many classes. I leave that to the experts...but I thought it might be fun to have a class on how to make pillows. I can handle that! We'll make throw pillows and pillow cases. Learn how to make pillows for Christmas Gifts. Easy, peasy...
Wool & Embroidery Class:

The November Wool Class will be MONDAY, November 11 (Veteran's Day) from 5-7pm. You can bring your own project or work on Michelle's new project: Snowman Pizza. Call the shop or check out the WEBSITE for more information. The December class will be on Tuesday, December 3 from 5-7pm. Come learn some fun things to do with wool!
If you have other idea's for classes...just let us know and we'll see what we can do. Also, plan to attend our Super Bowl Sunday class on Sunday, February xx, 2020. More information will follow.
I'll also be sending out information about our 2020 Retreat shortly!
I guess that's it for now. I'll be in touch soon.


Don't forget…it's "MY HAPPY PLACE". Hope it's yours too!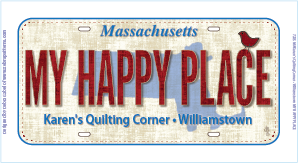 And it's time to:


Have a great day!!


Karen, Marlene, Betsy, Carol and Bruce
(413)884-6200
www.karensquiltcorner.com
karensquiltcorner@gmail.com