Happy Thanksgiving & SALE

Hi everyone,

Wishing everyone a happy and safe Thanksgiving. We are thankful for all of our family, friends and wonderful customers!!


A few quick reminders and bits of news:
We will be closing early at 2:00pm on Wednesday 11/27.

Closed Thanksgiving (11/28).
We'll be open our regular hours Friday & Saturday 11/29-30 from 10am-5pm and Sunday 12/1 from 12-4pm.

Check out the WEBSITE for classes and open sews. www.karensquiltcorner.com
Call the shop during inclement weather to see if we are open (413)884-6200. Or check the Website.
On sale now through Sunday December 8:
All batiks, Christmas and fall fabrics are on sale at 20% off regular prices.


Our Skinny Bolt sale continues. Selected bolts are 20% (one yard minimum please).

We're also putting our books on sale at 15%.



Don't forget, it's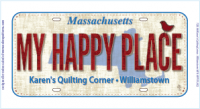 Have a wonderful day!
Karen, Marlene, Betsy, Carol & Bruce
(413)884-6200
www.karensquiltcorner.com
karensquiltcorner@gmail.com