Happy Holidays
Hi all,
We'd like to wish everyone a a joyous holiday season. Have a Merry Christmas and a happy, healthy New Year.
A few things to note:

We're continuing our 20% sale on holiday and fall fabrics as well as our skinny bolt sale. We're trying to make room for new fabric that is arriving in 2020! Books are also 15% off.
If you still in need of a gift, we have gift certificates! We also have some gift items.


As a

reminder, we will be closing early Tuesday, December 24 at 2:00pm and closed on Christmas.

We will also be closing early Tuesday, December 31 at 2:00pm. We'll be closed New Years Day.
The Monthly Wool group is moving back to Monday nights starting in January . Michelle will start this lovely Block of the Month. But you can always bring your own project to work on. The next meeting is Monday, 1/6 from 5:00-7:00pm. Come join the fun.





We're planning our 2020 Retreat. Mark you calendars for May 1-3, 2020. This year we're moving. The Retreat is

being held at the Berkshire Lake House-Guest Cottages in Lanesborough, MA.

We think you will be pleasantly surprised with the beautiful property, being located directly on Lake Pontoosuc, with beautiful rooms, many private kings (a few with private bathrooms) and a fabulous lakeview sewing/great room. I'll be sending more information after the Holiday but we have a limited number of rooms available. You can call the shop if you want more information.
Don't forget…KQC is "MY HAPPY PLACE". Hope it's yours too!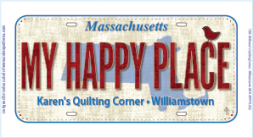 and lets

Thank you for your continued support. We're looking forward to another fun year of quilting together.



Karen, Marlene, Betsy, Carol & Bruce
(413)884-6200
www.karensquiltcorner.com
karensquiltcorner@gmail.com