Happenings at KQC
Hi all,

I bet everyone is looking forward to Spring. We might have a few winter days left, but the sun seems brighter and days are getting longer(except it's raining today). It's a good time to get out and about. Stop in to see what's new in the shop.

Retreat news:


We've had a wonderful response to our Retreat at the Berkshire Lake House Guest Cottages in Lanesborough MA.. We're almost full but there is still room and time to sign up. It should be a fun weekend! If you want more information, visit our WEBSITE or call the shop.


Upcoming classes/events. We've scheduled some but will be adding more. I'll be sending out a separate email on classes soon. Check the WEBSITE or call the shop if you have any questions. You can also signup & pay through our WEBSITE.

Beginner Class with Betsy: Sunday March 1 11am-2pm.
Super Bowl finishing class: Friday, March 20 12-4pm.
Binding Class with Karen: Saturday, March 21 12-3pm.
Sue Pritt fusible applique class: Sunday, March 22 10am-3pm.
Beginner Cross Stitch with Michelle: Saturday March 28 (Adults 10am-noon, Kids noon-2pm)
Zippered Project Bag Class with Carol: Saturday, April 18 12-4pm.
Poppins Bag with Marlene: Saturday, April 25 from 10am-4pm.
Beginner Machine Quilting with Karen: Sunday, April 26 12-3pm.
Please let us know if you have any suggestions for other classes.


Recurring classes/events (please call to verify & sign up)
Lunch Bunch (10am-2pm)-USUALLY the 4th Friday.
Wool Club (5-7pm)-usually the 1st Monday of the month
SUNDAY OPEN SEWS (12pm-4pm) 2nd Sunday of each Month
Upcoming Quilt Shows:
The weekend of March 28-29 we will be in Rutland, VT for the Maple Leaf Quilters (MLQ) Festival of Quilts. . This is a new show for us and we're excited to be a Vendor. It will be at the Rutland Rec Community Center formerly the College of St. Joseph located at 71 Clement Rd. in Rutland Vt.

The weekend of April 4-5 we will be in Clifton Park NY for the Empire Quiltfest which is presented by multiple Quilt Guilds in the area. It will be at Schenendehowa High School East in Clifton Park, NY. This is always a nice show with lots of quilts and vendors.
Shop Hop News:
The theme for this year's Quilters Quest Shop Hop is the Pursuit of Trivia. Other shops include Adirondack Quilts, Brookside Quiltworks, KC Framing and Fabrics, Log Cabin Fabrics, Pumpkin Patch and QuiltBug. Signups begin soon.. The Shop Hop will run from May 30- June 9. Lots of time to visit all the shops.

Of course, we have the MA Shop Hop this fall. As a reminder, the other shops include Quilts and Treasures, Bayberry, Pumpkin Patch and Brookside Quiltworks, The Spare Room & Valley Fabrics. The theme this year is Stars & Stripes. The dates of the MA Shop Hop are October 16-18. Signups will begin June 1…but mark your calendars now!

There is more information on both Shop Hops on our WEBSITE and we'll keep everyone updated as the dates get closer.


Two new services available at the shop:

Drop off/Pick up for Machine Repair.

Our friends at Pumpkin Patch Quilts in Lee offer Machine Repair. In order to help our local customers, we are offering a drop off & pick up location. You can drop off your machine at KQC. Once it has been serviced, you will be notified when you can pick it up. If you are looking for service, call Sue at Pumpkin Patch (413) 243-1635 for more information.

SCISSOR Sharpening.

Not sure about you, but we have quite a few dull scissors around the shop. Gary (my husband) has agreed to help out and is now set up to offer this service for our customers. You can drop them off at the shop (with name & number) and when done, we'll let you know and you can pick them up.


Don't forget…KQC is "MY HAPPY PLACE". Hope it's yours too!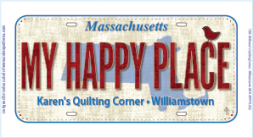 Have a great day,


Karen, Marlene, Betsy, Carol & Bruce
(413)884-6200
www.karensquiltcorner.com
karensquiltcorner@gmail.com