Anniversary Sale at KQC
Hi all,
Well, if anyone is keeping track, it's really been 6 1/2 years since we opened. But, it's been 6 years since we've moved to our current location at 723 Cold Spring Rd. So I figure it's a good time to have a sale! Plus, it will make more room for all the new fabric coming in for the Spring.



Starting Wednesday, March 4 through Sunday March 8 2020:




20% off all regular priced bolts (1/2 yard minimum).

Skinny Bolts are already at 20% off (1 yard minimum). If you buy the entire bolt, get an extra 10% off.

Sale rack (1 yard minimum), an extra 10% off.

Some kits reduced.

Don't forget that books are now 15% off.

No other discounts will be applied (coupons or rewards).


While you're in the shop, check out our newly scheduled classes and ask about our Retreat.

I want to highlight Sue Pritt's visit on Sunday, March 22. It's always a fun and educational class. In the end, you'll be on the way to have a beautiful Sue Pritt wall hanging.



Don't forget…KQC is "MY HAPPY PLACE". Hope it's yours too!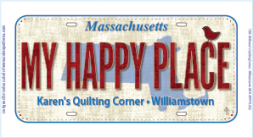 Have a great day,


Karen, Marlene, Betsy, Carol & Bruce
(413)884-6200
www.karensquiltcorner.com
karensquiltcorner@gmail.com