News from KQC
Hi all,
Hope everyone is staying safe and healthy. I've heard from many of you about spending lots of time sewing/quilting. Between making masks, PPE's and working on old projects & UFO'S, you've been keeping busy. Hopefully now with nicer weather, we can get outside to work on our gardens.
Thank you all for making masks/PPE for the many different organizations, families and friends. Quilters certainly are generous and caring. Also, many thanks to everyone that ordered from us during this time.
It looks like we be able to open for in-shop shopping on or around June 8. I'll be sending another more detailed email about how we will proceed with our new protocols as we get closer to that date. Our top priority will be the safety and comfort of our customers and staff.
Until then we can take ONLINE/phone/email orders. We can do curbside pickup or mail orders. We have free shipping over $75. We'll do our best to make sure that shipping costs don't exceed what it will cost us to mail your order.

Shows and Shop Hops:

As you can imagine, our Spring and Fall shows have been cancelled. The Quilters Quest Shop Hop that normally starts about now has been postponed until August 13-23. We are still hoping to have our MA Shop Hop in October. I'm sure both will have some changes, but we'll be sure to let everyone know as we get closer to those dates.

ONLINE SHOPPING & DAILY SPECIALS:
We're going to be working on our website so that shopping is easier. We have a new category called "DAILY SPECIALS". I'll put something new up every day. Right now there are two 10 inch Timeless Treasures sets (Swim, Sumata). They are reduced 25%. I have six of each. You can order on the WEBSITE. I will also announce on FACEBOOK.
There is another category for Kit's. I'm hoping that they are easier to find. We have some kits that we were preparing for our shows before we had to close. Here are a few that are ready now. Once we open, we'll have more.

From our home page, select SHOP. You will see Icons for both the Daily Special and Kits:

Here are some of the kits we have.


Multi Country Road Market Placemats 24.50




(includes backing)






Modern Rail Kit 85.00(no backing/binding)





Loon Refuge kit 45.00(no backing/binding)





We also have Sue Pritt
Precut-prefused kits



Evening Blaze (not including borders/backing) $38

.



Winterberry Cafe (not including borders/backing) $36





The Swingin Moose (includes borders) $30





Don't forget…KQC is "MY HAPPY PLACE". Hope it's yours too!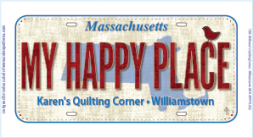 Stay safe! Hope to see everyone soon!


Karen, Marlene, Betsy, Carol & Bruce
(413)884-6200
www.karensquiltcorner.com
karensquiltcorner@gmail.com