KQC Reopening!!
Hi Everyone,


It's time to reopen! As excited as we are, we're also a bit nervous. We are opening tomorrow, Monday June 8 as part of Massachusetts' Phase 2. We have temporarily changed our hours. Monday through Saturday, we will be open 10am-5pm. Sunday will remain 12-4pm.
You are probably familiar with some of the current protocols associated with reopening, so these will not come as a surprise. They will also be posted at the shop.

Our top priority will be the safety and comfort of our customers and staff.
-If you are sick, please reschedule your visit until you are feeling better.
-Please wear a mask in the shop (we will be too).
-Sanitize your hands when you enter the shop (prior to handling fabric).
-Limit 4 customers at a time in the shop.
-Be socially distant (6 feet).
-Credit Card Payments are encouraged.
-No public restrooms.


We are happy to ship orders or do curbside delivery.


Don't forget…KQC is "MY HAPPY PLACE". Hope it's yours too!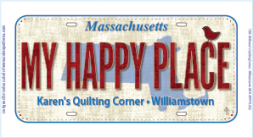 STAY SAFE & STAY HEALTHY-BE RESPECTFUL

Hope to see everyone soon!


Karen, Marlene, Betsy, Carol & Bruce
(413)884-6200
www.karensquiltcorner.com
karensquiltcorner@gmail.com