MA Virtual Shop Hop
Hi all,

Hope this email finds you safe and well. Quilting is certainly a safe and enjoyable option if you are home.
For those that are familiar with our schedule, this is our normal weekend for the MA Shop Hop. For obvious reasons, we didn't think it was in anyone's best interest to do an in-person shop hop this year. So, like many other things, we've gone VIRTUAL!
Check out the MA Shop Hop WEBSITE and MA Shop Hop Facebook page to see the Shop Hop Quilts for each shop. If you like and want to order a shop hop quilt kit, you can contact that shop directly or check out their website for ordering information. You will also be able to download the FREE PATTERNS for each block and finishing instructions (10/16-10/18 only). If you would like any pattern after the fact, you need to contact the specific Shop directly.

website: www.mass-shophop.com
facebook: Massachusetts Shop Hop

If you like or comment on the facebook page, you'll be eligible for a prize (Gift Certificates).
This is our shop hop quilt which incorporates all the block patterns (and the quilt design is consistent with others). The price for this one is $85 for the top only. In addition we also designed a quilt with just our quilt block. Here are both our OUR quilts:

2020 KQC Shop Hop Quilt





Alternate KQC -Scrappy Shop Hop Block
(contact us for pricing)





FYI...The shops will have adhere to their usual shop hours. If you have a question, just ask.


We'll also be posting videos of our shops. So it's a good way to see each shop and what might be new.

Don't forget…KQC is "MY HAPPY PLACE". Hope it's yours too!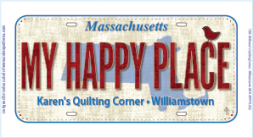 Have a great day,


Karen, Marlene, Betsy, Carol & Bruce
(413)884-6200
www.karensquiltcorner.com
karensquiltcorner@gmail.com