Happy Thanksgiving
Hi everyone,

Wishing you a happy and safe Thanksgiving. Even in this challenging year, we are thankful for all of our family, friends and wonderful customers!!
We're happy to announce that Michelle Gajda will be expanding her role at KQC. Michelle is our wool instructor but she will also be working a bit in the shop. In addition to her wool, craft and quilting experience she has "the knack" for creating beautiful displays. Stop in to see how she already has made a difference in the shop.



Michelle's newest book Wing of the Crow Book 3 -Spring is also available for sale. You can check out more of her designs at Under the Woollen Williow . We're looking forward to the time when we can resume our wool classes.


A few quick reminders and bits of news:
We have recently added the ability to purchase Gift Certificates for our shop ONLINE. You can also use your Gift Certificates for your ONLINE purchases. You can tell your family and friends. There is a link on our home page.
For Christmas we will be closed Thursday 12/24 & Friday 12/25. For New Years we will be closed Thursday 12/31 & 1/1/2021.
Don't forget…KQC is "MY HAPPY PLACE". Hope it's yours too!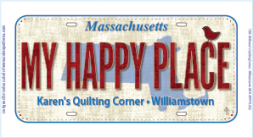 Have a great day,


Karen, Marlene, Betsy, Carol, Bruce & Michelle
(413)884-6200
www.karensquiltcorner.com
karensquiltcorner@gmail.com